Meat Bone Saw Machine Meat Cutting Machine Commercial 850W For Cutting Bone
SKU:

XE.2841957062Nef

UPC:

MPN:

Condition:

New

Shipping:

Free Shipping
Frequently bought together:
Description
Meat Bone Saw Machine Meat Cutting Machine Commercial 850W For Cutting Bone
DESCRIPTION:
This bone saw machine is specially designed for cutting freezing meat and bones into smaller pieces. The full stainless steel bone saw is exceptionally robust, reliable, safe, and easy to clean up. It is ideal for processing any meat, whether it is fresh or frozen. Our bone saw machine complies with international hygiene standards, widely used in butcher's shops, guesthouses, hotels, food processing factories, and slaughterhouses.

NOTE: Transportation problems may cause the saw blades to loosen. Thus, after receiving the goods, you need to tighten the knob of the saw blade to prevent it from slipping off during use.

Large Workbench With Scales

Strong Reliability & Safety

Heavy-Duty Structure

High-Power Copper Motor

High-Quality Bandsaw Blades
Key Features
Stainless Steel Workbench




Our meat bone saw features a 14.9x14.4 inches (380x365 mm) stationary cutting table that provides a large stacking space. The precise scales (4-180 mm) are adopted for easy adjustment of cutting thickness.
Reliable Buttons with Protection




The bone-cutting machine comes with an emergency shutoff button and built-in protection sensors. The machine will automatically stop working when the upper or lower covers are opened.

Sturdy & Compact Body




The whole meat bone saw machine is made of cast aluminum and stainless steel with specially treated surfaces, which are exquisite in appearance and fine in the craft. The solid material makes it endurable in use.
Powerful Copper Motor




The motor of our meat bandsaw stored in a separate compartment makes cleaning easier. The pure-copper-made coil ensures the motor run efficiently and stably, providing a high rotation speed of 15 m/s.

Excellent Saw Blades




The high-quality imported saw blade is powered by a direct gear drive transmission that offers a 15m/s speed to easily cut through bones. The saw blade tension system can adjust the blade to its best mode.

Meat Pushing Slab




The widened push board is equipped with two side blades to make cutting safer and easier and effectively keep your hands away from sharp blades. The handle design is more convenient to apply force.
Specifications
Power: 850W

Saw Blade Speed: 15 m/s


Saw Wheel Diameter: 8.27" (210 mm)

Cutting Thickness: 0.16"-7.09" (4-180 mm)

Cutting Height: 7.9" (200 mm)

Horsepower: 1.2 hp


Table Size: 14.9"x14.4" (380x365 mm)

Product Size: 18.5"x16.0"x35.0" (470x405x890 mm)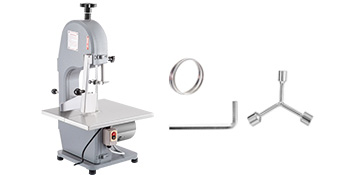 Package Content
1 x Electric Bone Saw

3 x Saw Blades

1 x Wrench
Features & Details
【LARGE WORKBENCH WITH SCALES】- The tabletop electric band saw comes with an upgraded big working table, 14.9"x14.4" (380x365 mm) in size, featuring precise thickness adjustment scales (0.16"-7.09"). The well-designed pushing slab is perfect for the long meat and bones, which can keep your hands from hurt.

【STRONG RELIABILITY & SAFETY】- This bone-cutting saw adopts an easy-to-operate ON/OFF switch and an automatic power-off protection device (the machine will automatically stop when the protective cover is opened) for enhanced reliability.

【HEAVY-DUTY STRUCTURE】- This electric bone saw is built with cast aluminum and food-grade stainless steel material, with a brushed finish, ensuring strong durability, sturdiness, longevity, and easy cleaning. It is used not only for sawing the whole pig, sheep, cattle, and other livestock bones but also for small pieces of frozen meat, pork, and fish cutting.

【HIGH-POWER COPPER MOTOR】- The powerful 850-watt motor of the meat bone saw is built with pure copper material, with low noise, high efficiency, and excellent performance, providing a high blade rotating speed of 15 m per second.

【HIGH-QUALITY BANDSAW BLADES】- The package list contains 3 high-quality saw blades (65.0" in length), sharp and stable, convenient for replacement. This bone sawing machine is equipped with a blade tightness adjustment knob, which can adjust the blade tension according to your needs.
Item Specs
Horsepower: 1/2 hp
Model: JG-210
Modified Item: No
Custom Bundle: No
Power: 850W
Saw Wheel Diameter: 8.27" (210mm)
Cutting Thickness: 0.16"-7.09" (4-180mm)
Table Size: 14.9"x14.4" (380x365mm)
Product Size: 18.9"x17.9"x34.6" (480x455x880mm)
voltage: 110V 60HZ
Production: 200-300KG/H
Saw Blade Speed: 15m/s
CE Approved :YES
MPN: XQICX001541576573340
Brand: VEVOR
UPC: 8677512386230
For Volume Pricing please message us or send us your list via email at [email protected].
View AllClose