96''x5.8'' Forklift Pallet Fork Extensions Pair Lift Truck 2 Fork Thickness
SKU:

XE.2821831905nTV

UPC:

MPN:

Condition:

New

Shipping:

Free Shipping
Frequently bought together:
Description
96''x5.8'' Forklift Pallet Fork Extensions Pair Lift Truck 2 Fork Thickness
For Volume Pricing please message us or send us your list via email at [email protected].
DESCRIPTION:
Pallet Fork Extensions
This forks extension is made of alloy steel material with a powder coating surface, which gives it the qualities of high strength, high wearability, and corrosion resistance. The pallet forks are 96'' in length and fit pallet forks up to 5'' in width. With a large lifting capacity, it can provide more space to fork goods in many fields, such as warehouses, farms, construction sites, etc.
Fit for 5 Inches Forklifts

Alloy Steel & Powder Coating

Effortless Installation

Well-designed Details
Key Features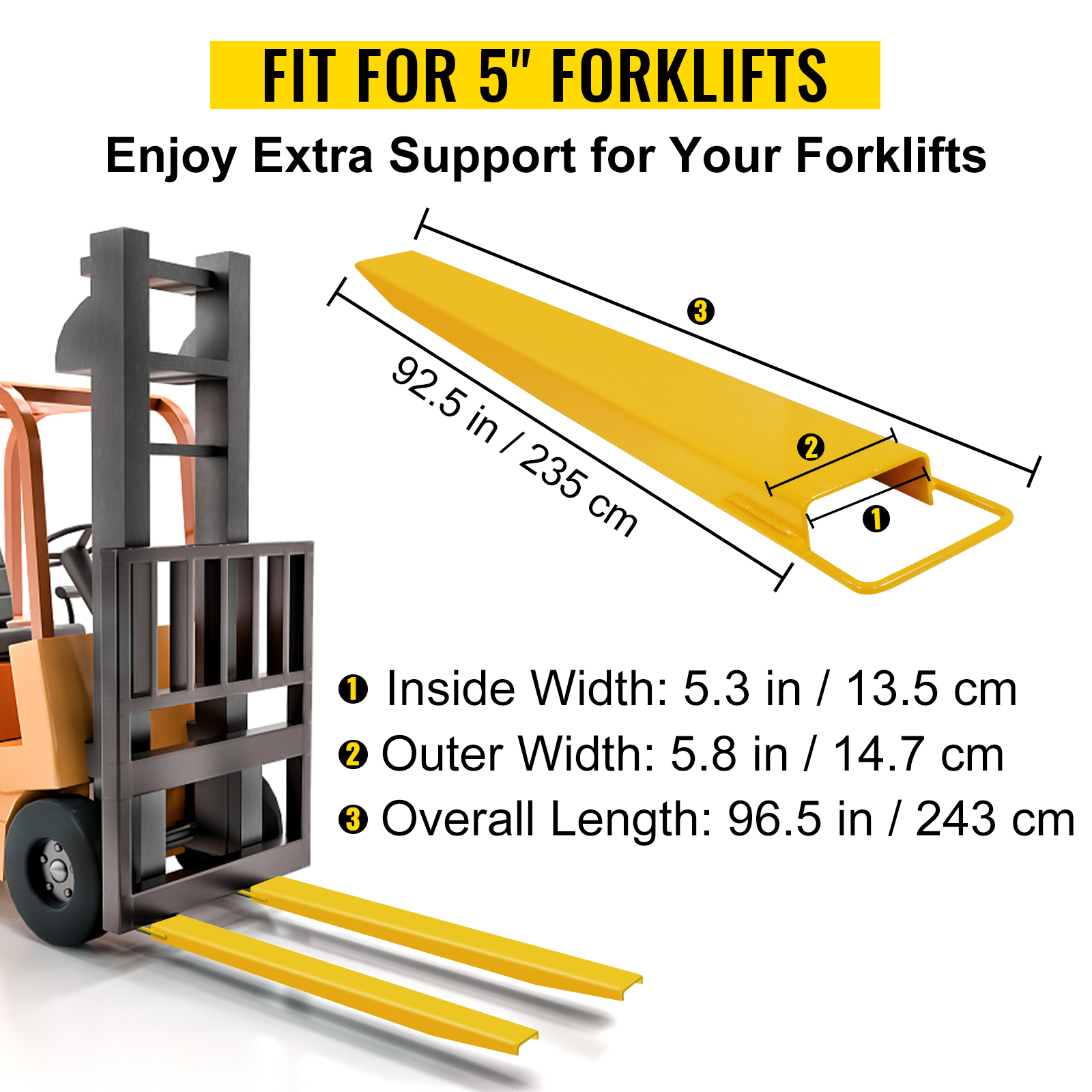 Fit for 5" Forklifts
These fork extensions fit forks up to 5 inches in width. It won't strain or tax your machinery, allowing you to lift more goods than you would generally be able to lift with your forklift.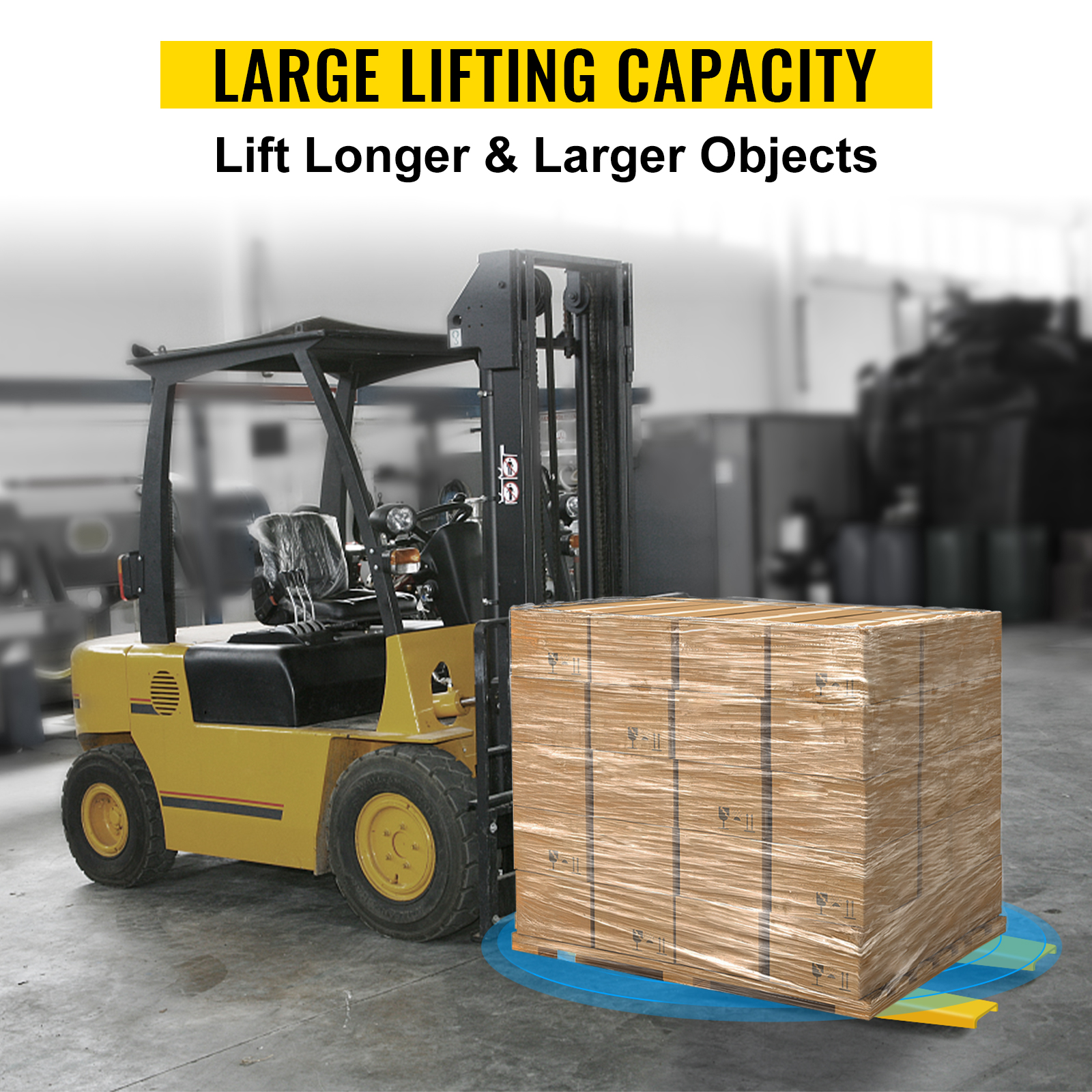 Large Lifting Capacity
The tool with strong lifting capacity provides you with the extra support to lift longer or larger objects. Trust these 96-inch pallet fork extensions to help you complete the task!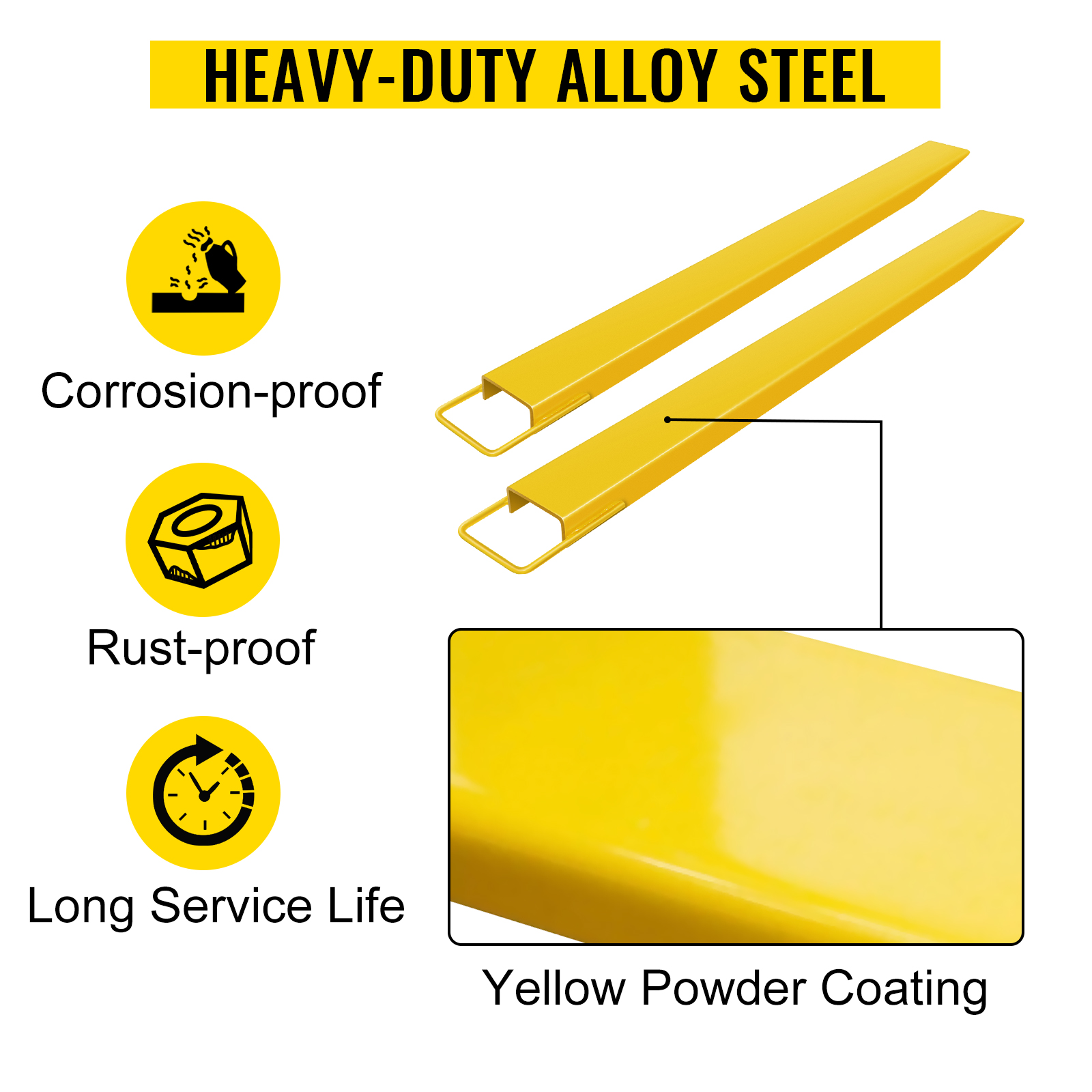 Sturdy Steel Material
Manufactured by alloy steel material with a powder-coated surface, the extension has the advantage of high strength, stability, and rust resistance, prolonging its service life.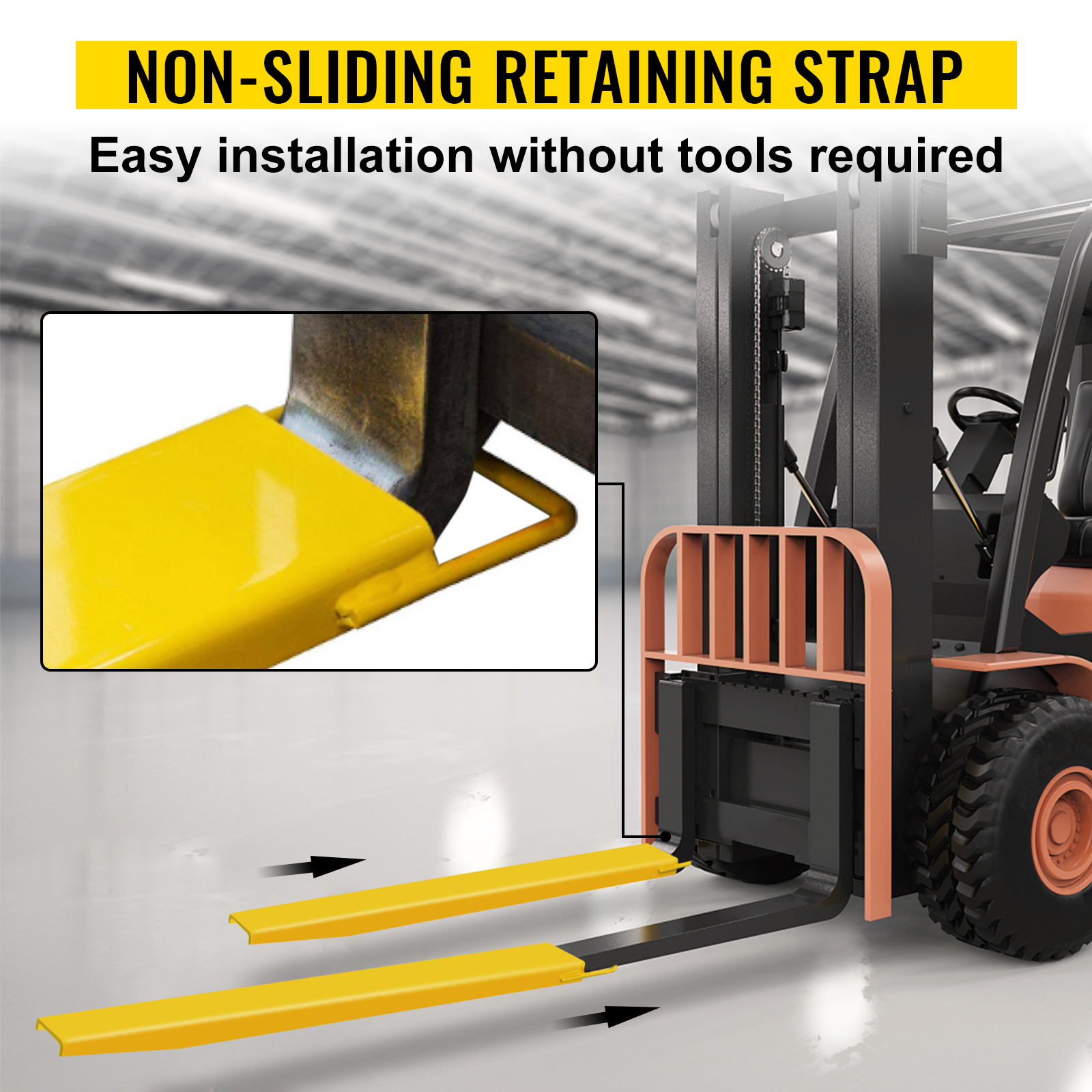 Hassle-free to Install
The steel retaining strap keeps fork extensions from sliding off to improve security during use and avoid accidents. In addition, this set of equipment requires no tools for easy installation.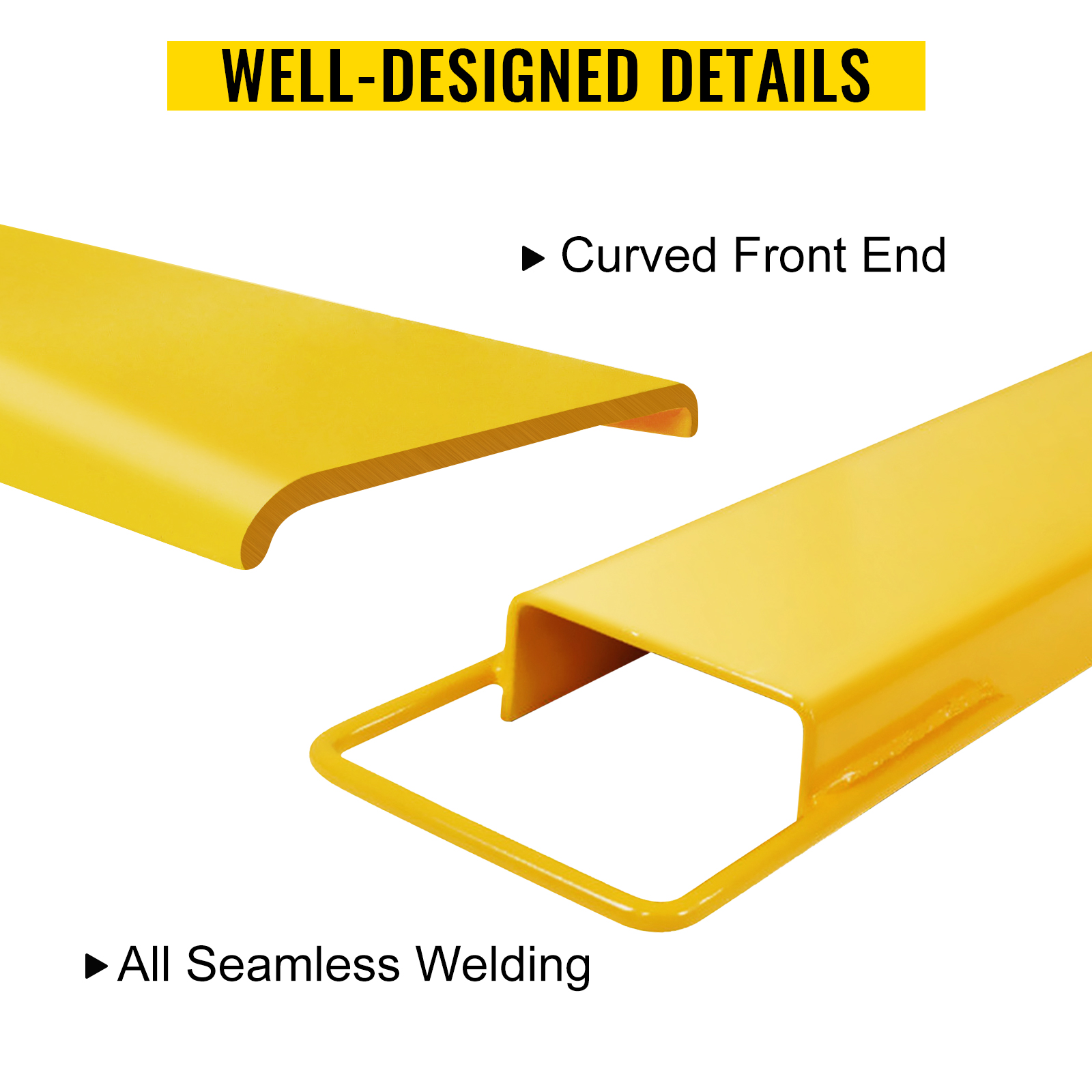 User-friendly Details
Seamless welding construction makes the structure resist deformation and bend. And because of the curved front end, keeps your goods in good condition all the time.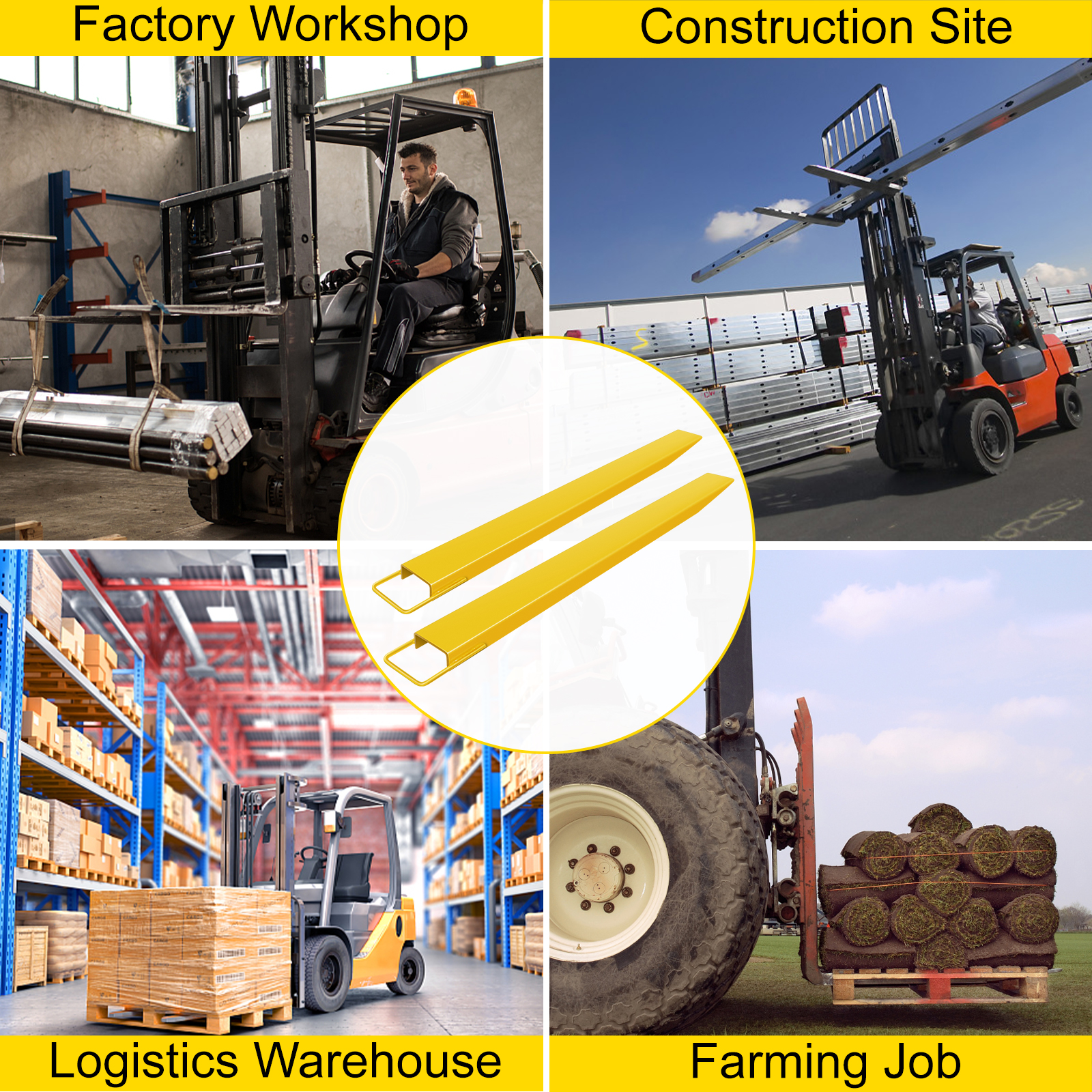 Extensive Application
It is widely applicable to the forklift truck to move large and heavy loads in the farming job, warehouse, express delivery, factory workshop, construction site, etc.
Specifications
Model: 96 x 5.8" Fork Extension

Fit: Forks up to 5" / 13 cm Width

Material: Alloy Steel

Overall Length: 96" / 243 cm

Usable Length: 92.5" / 235 cm

Inner Width: 5.3" / 13.5 cm

Outside Width: 5.8" / 14.7 cm

Thickness: 0.24" / 6 mm

Weight: 109.7 lbs / 49.75 kg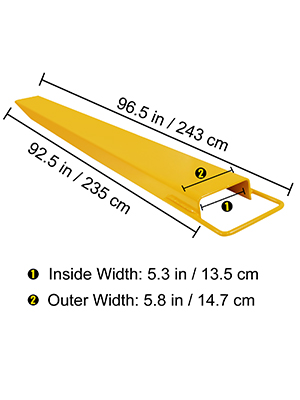 Package Content

1 x Pallet Fork Extensions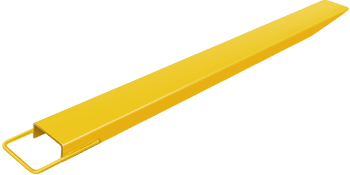 Features & Details
【FIT FOR 5 INCHES FORKLIFTS】 - The forklift extensions are 96'' in length, 5.3'' in inside width, ideally suitable for 5" width pallet forks. They extend the size of the original forks, giving more space to fork cargoes at one time. The large weight capacity makes it capable of undertaking most lifting tasks in a warehouse or building site.

【ALLOY STEEL & POWDER COATING】 - These fork extensions are made from high tensile steel, providing extra preservation and reinforcement to your equipment. Because of their heavy-duty steel construction and yellow powder coating, these extensions won't rust or corrode, so you can enjoy them for years to come.

【EFFORTLESS INSTALLATION】 - It is effortless to install the pallet fork extension by yourself without any tools required. Just slide the extensions onto your current pallet forks and ready to work! And the steel retaining strap keeps extensions from sliding off forks, ensuring maximum security.

【WELL-DESIGNED DETAILS】 - The forklift forks extensions are designed with seamless welding construction, making the structure sturdy and not easy to bend. Besides, the front curved shape is convenient for stable movement and not easy to damage the goods.

【MULTIPLE USAGE SCENARIOS】 - Our pallet forks extensions are suitable for construction a
Item Specs
Brand: VEVOR
MPN: ZY8LX008
Model: 96 x 5.8" Fork Extension
Compatible Equipment Type: Forklift
Compatible Equipment Make: Universal
Fork Type: Fork Extension
Fit: Forks up to 5" / 13 cm Width
Material: Alloy Steel
Overall Length: 96"/243 cm
Usable Length: 92.5" / 235 cm
Inner Width: 5.3" / 13.5 cm
Outside Width: 5.8" / 14.7 cm
Thickness: 0.24" / 6 mm
Weight: 109.7 lbs / 49.75 kg
UPC: 278716842812
View All
Close