New 3M Waterproof Canvas Bell Tent Gl&Ing Hunting C&Ing Tent Yurt Stove Jack
SKU:

XE.1737274515tFu

UPC:

MPN:

Condition:

New

Shipping:

Free Shipping
Frequently bought together:
Description
3M Waterproof Canvas Bell Tent Glamping Hunting Camping Tent Yurt Stove Jack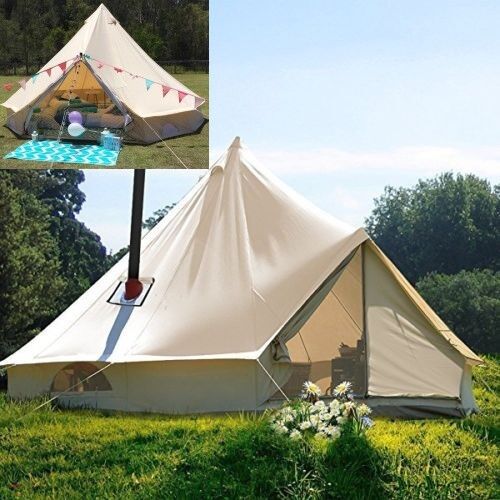 Specification:
Tent Size: 300*300*250cm
Door Height: 1.6M /5.25ft
Center Pole: Length-2.5M /8.2ft, Diameter-3.8cm, center rod wall-thickness:1.2mm
Electrical Wire Inlet: 21cm*8cm(L*W),zipper length: 15cm
Pegs: 20pcs, Diameter-6mm
Guy Rope: 20pcs, Length: 2.5M, Diameter-6mm
Weight: 20kg /44.1lbs
Package Size: 112*26*26cm
Package Included:
1×Bell Tent
1×Central pole
1×Frame pole of the door
2.5m Ropes(Φ6mm)
Stakes(Φ5mm)
Carry Bag: All packs down into a matching cloth bag.
Packing: In carry bag and then carton packing.
Features:
1.Double sided and double handle SBS zippers.
2.Net: white, both on door and windows.
3.Windows: 4 side windows and 4 vents on the apex, with mesh.4 inside pockets for extra storage.
4.Center Pole Material: galvanzied steel tube,anti-rust treatment. There are two layers PVC on the center pole bottom.Durable and sturdy.
5.Roof fabric: 100% breathable cotton canvas, 300g per sqm, with reinforced double stitched seams.Canvas is treated with UV, mildew, rot & water repellent.
6.Sidewall: 100% cotton canvas, 300gsm, PU coating, water proof, mildew resistant.
7.Ground sheet: 540gsm ripstop PVC, waterproof , detached with the tent by a zipper in beige.
8.Wonderful view: It has full zip around the bottom and you can roll all up , then it will has 360 angle view.
Caring your tent:
1.Always dry your tent before you pack it away to store. Never keep the tent stored away wet for longer than two days otherwise fungus can
affect the canvas which will then create permanent marks.
2.The canvas has been impregnated with an anti-fungal waterproofing agent that is effective for up to 60 weeks of use (so a year). Once you
have passed this period of camping you may need to re-proof certain areas that appear more translucent.
3.Maintenance starts when setting up your Bell Tent. If a Bell Tent has not been set up correctly uneven forces will pull on the canvas. This
could eventually lead to damage. To ensure your tent stays set up correctly daily guy rope maintenance is necessary.
4.It is in your interest to keep the canvas as clean as possible and remove stains when created. Dust and dried mud is best removed once the
canvas is dry by brushing with a clean hard brush like a floor scrubbing brush.
5.The lifespan of your tent is very dependent upon camping conditions such as air pollution, ultraviolet radiation, natural dirt (bird
droppings, sand, salt water) and domestic dirt (cooking stains, soda, wine, sun cream).
6.Fungus and stains:Due to insufficient ventilation, fungus can affect the canvas. It is important to store your tent dry so no fungus or other stains can appear. If you have to temporarily store the tent wet be sure to remove the mud and dirt from the bottom of the tent put your tent back out to dry within 48 hours.In order to limit fungus and stains on your tent:Store your tent 100% dry When dealing with fungus, use a soft brush or sponge and a lot of fresh water.Only use specialized tent cleaning products to remove difficult stains as other chemical products can cause the cotton to leak.We suggest you have your tent re-impregnated with waterproofer if any area has been cleaned using a cleaning product.
7.Leaking:Cotton can, when new, let some air through and leak around the seams. After the canvas has been wet once this will no longer happen because of the cotton expanding. Very light stains can appear on a wet tent - these stains cause no problems. In order to preserve your tent's water resistance and prolong its lifespan after a considerable amount of use, the outside of the canvas can be re-treated with a sealant. There are
many good spray can sealants on the market, and we also sell re-proofer.
8.Zippers :Zippers sometimes have to endure extreme tension caused by wind, incorrect tent set up or pressure caused by people or objects
leaning into the tent. In order to limit damage to any zippers:Close all zippers before setting up your tent.Handle the zippers with care
Protect them by treating them with silicone once in a while check zippers before setting up your tent, as there is no insurance on them after use
Item Specs
Fabric: 300gsm cotton canvas,waterproof,mildew resistant
Floor: 540gsm rip-stop PVC,waterproof,zipped in floor
Style: Bell Tent
Season: 4 Season
Net: B3 strengthen gauze,white,both on door and windows
Stitching Style: Double stitching
Zippers: SBS zipper,double handle zippers
Central pole: Dia 32mm,height 250cm,galvanized steel tube
Entrance type: A frame pole at the door,diameter 19mm
Windows: 4*zipper windows with net
Type: Roof Tent
Capacity: 2 Person
Vents: 4*triangle vents with net
Sidewall: 300gsm, PU coating, waterproof,60cm high
Door: 1 zipper door with net,height 150cm,width 200cm
Features: Lantern Hook, Mosquito Net, Organizer Pockets, Waterproof
Stakes: φ10mm,25mm long,10pcs,φ6mm,25mm long,10pcs
Color: Beige
Rope: φ6mm,2.4m*9pcs;3.5m*1pc
Packing: In carry bag then carton packing
Brand: Unbranded
For Volume Pricing please message us or send us your list via email at [email protected].
View AllClose