34" Vinyl Cutter Plotter Cutting Sign Maker Backlight Decoration Cut Device
SKU:

XE.2738258336uBj

UPC:

MPN:

Condition:

New

Shipping:

Free Shipping
Frequently bought together:
Description
34" Vinyl Cutter Plotter Cutting Sign Maker Backlight Decoration Cut Device
DESCRIPTION:
Features & Details
【CUTTING CAPACITY】- 34-inch vinyl cutter with maximum paper feed of 870 mm(34.3"), maximum cutting width of 780 mm(30.7"), cutting precision of +/-0.01 mm(0.0004"), and paper feed precision of 3 m(118").

【STRONG STABILITY】- Adopts D-typed motherboard and 2 MB high speed cache memory. 2 double-spring pinch rollers and aluminum knurling stick ensure that the paper feed will not deviate by long distance.

【DIGITAL CONTROL】- Comes with illuminated LCD screen and large control panel. With cutting pressure 10-500g adjustable, and cutting speed 10-800 mm/s adjustable.

【HIGH COMPATIBILITY】- Available with COMPIM and USB interface for more precise control. Supports DM/PL, HP/GL language. System: Pentium processor-based PC or compatible computer (Windows), Windows XP/Vista/7/8/10 (32& 64).

NOT compatible with Mac system

.

【WIDELY USED】- Can be used in advertisement field, various decoration, handcraft, supplementary for heat transfer, label & sign making, etc.
Key Features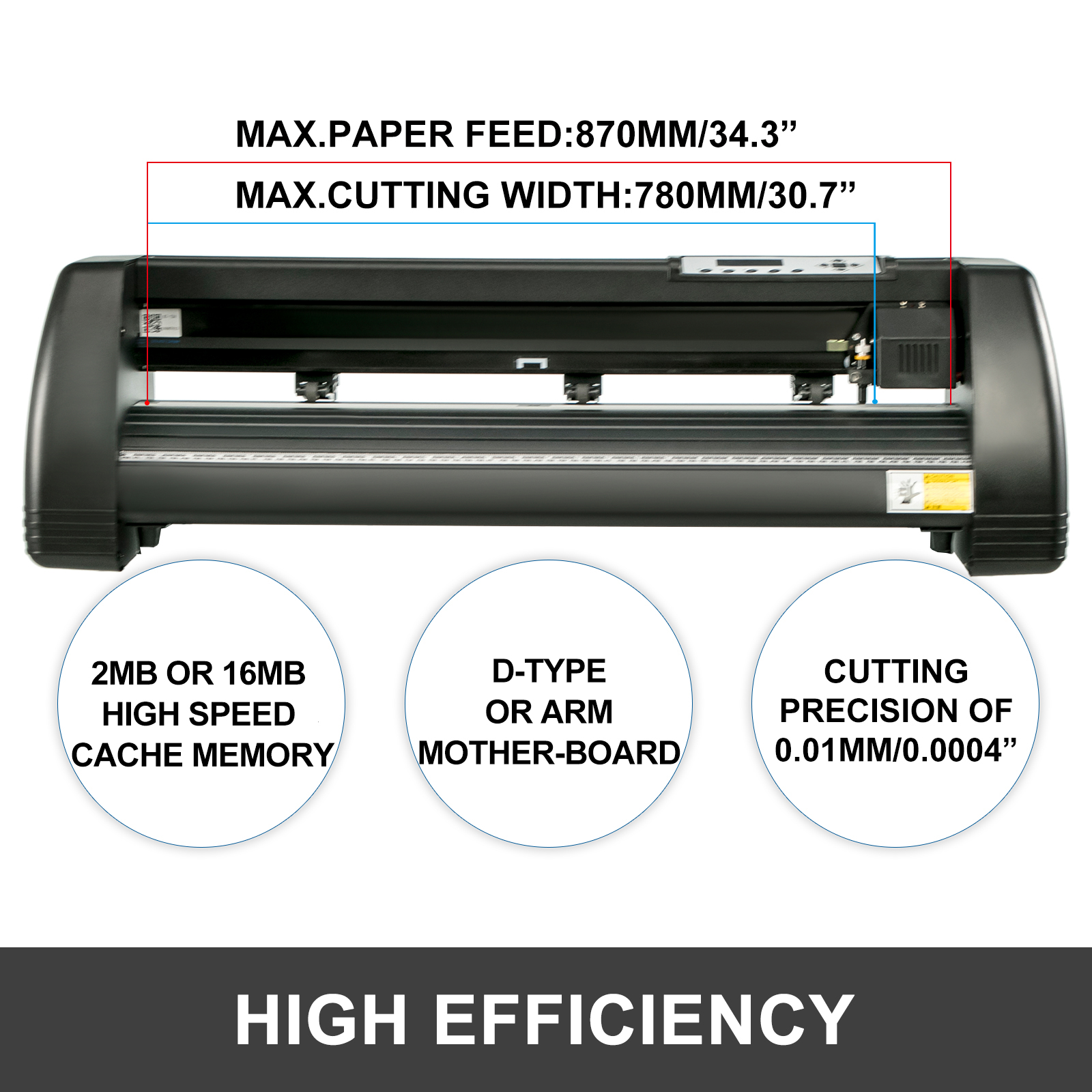 High Efficiency
With large paper feed and cutting width, features high cutting precision and paper feed precision. D-typed motherboard and steppermotors are equipped.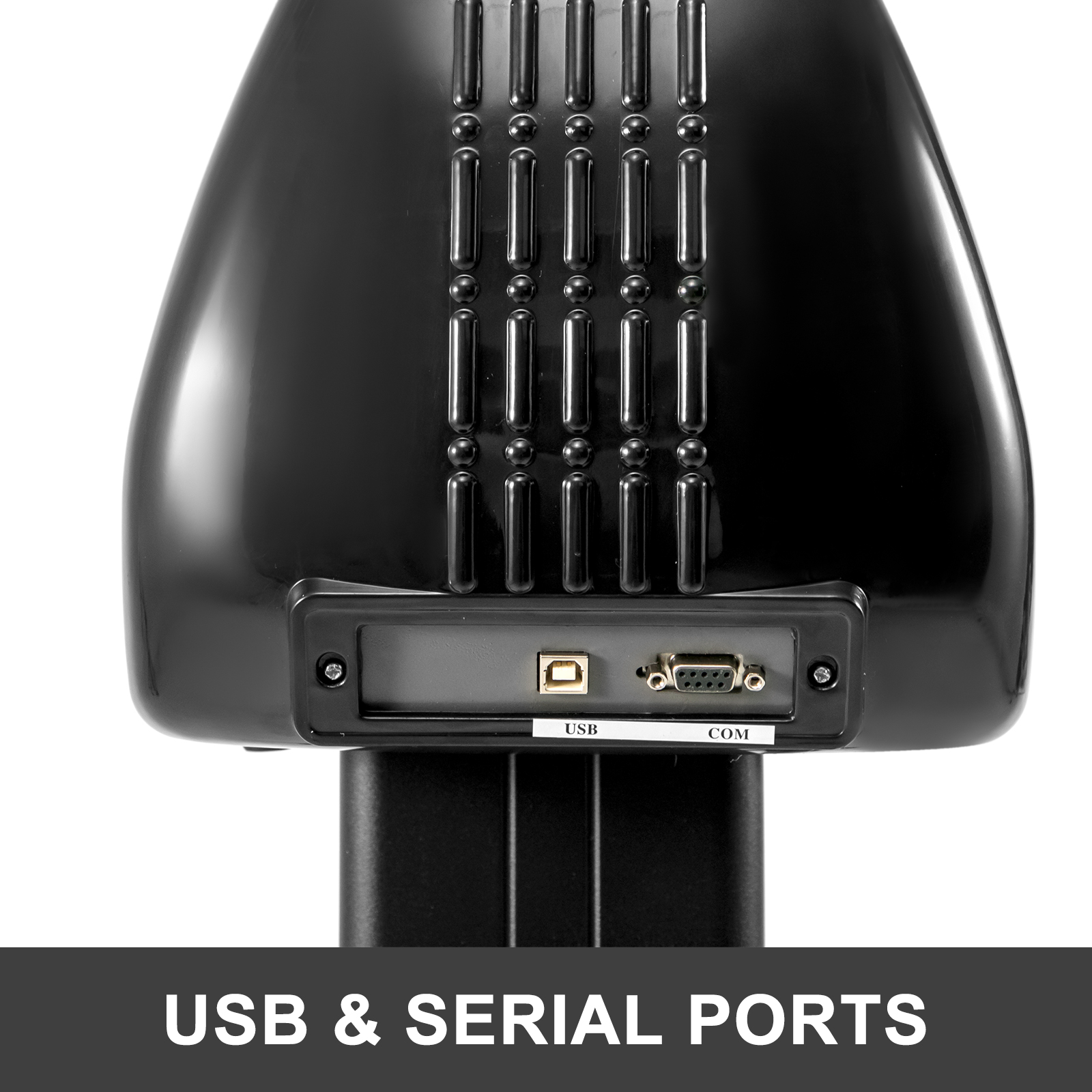 USB & Serial Ports
COMPIM and USB ports available. Standard USB 2.0 interface equipped. Flexible switch between USB and virtual serial ports.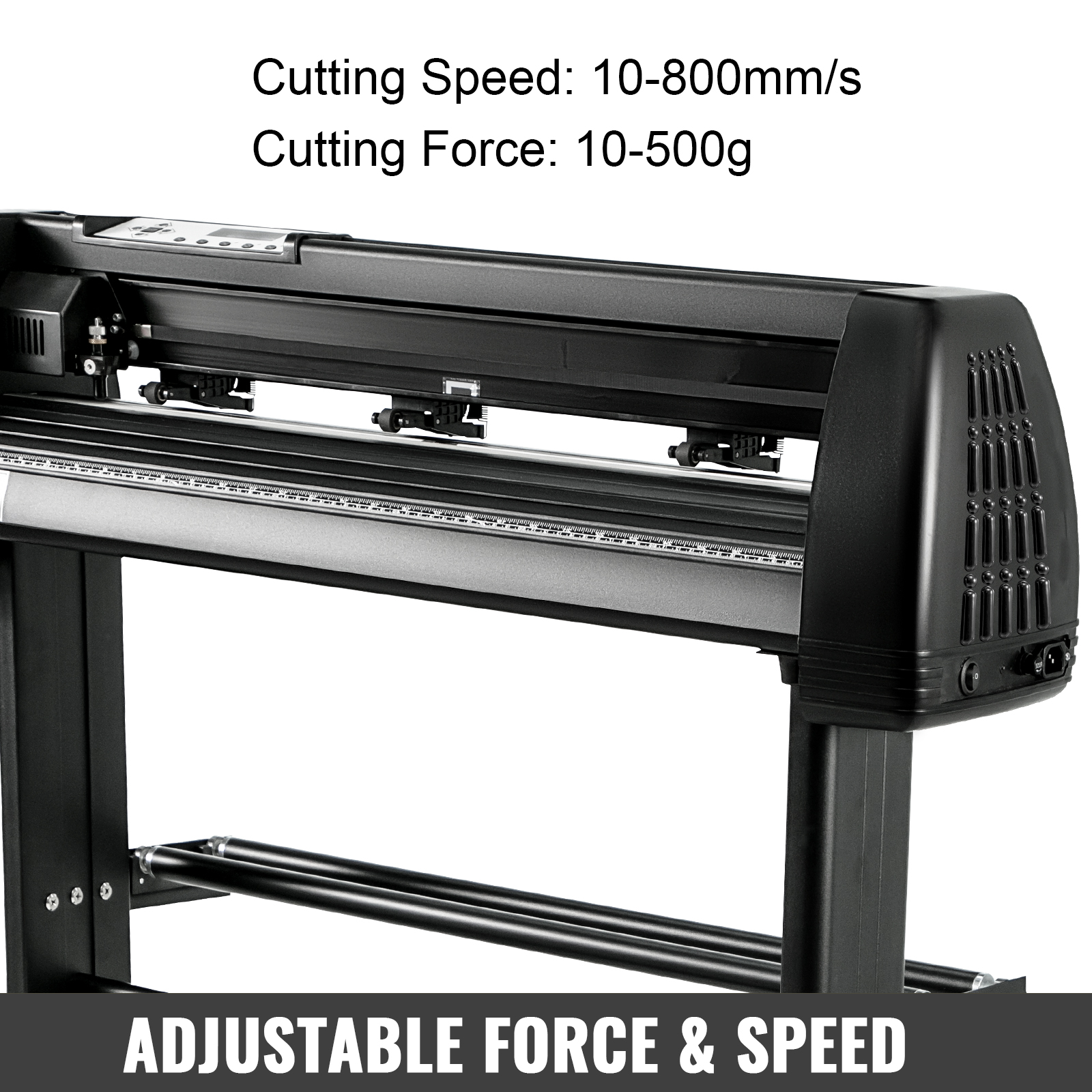 Adjustable Force & Speed
Digital control panel allows adjustment of cutting force and speed, for more precise and controllable cutting.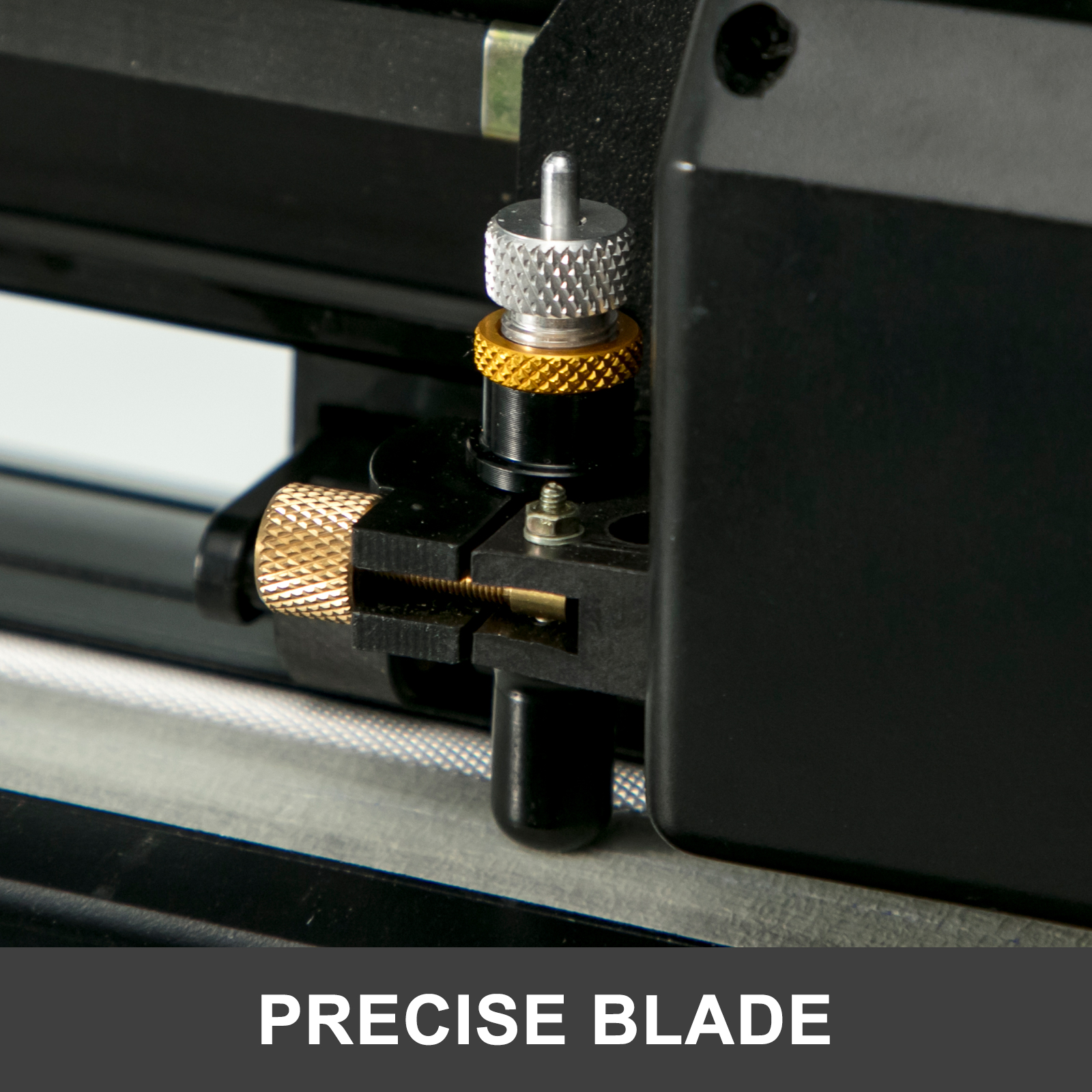 Precise Blade
Equipped with three standard blades with a diameter of 2mm, Roland compatible. Also structured with a closed blades holder, not easy to slip.
Anti-deviation Design
2 adjustable double-spring pinch rollers, aluminum knurling stick, high precision pressing wheels and scale line ensure the anti-deviation of paper feed by long distance.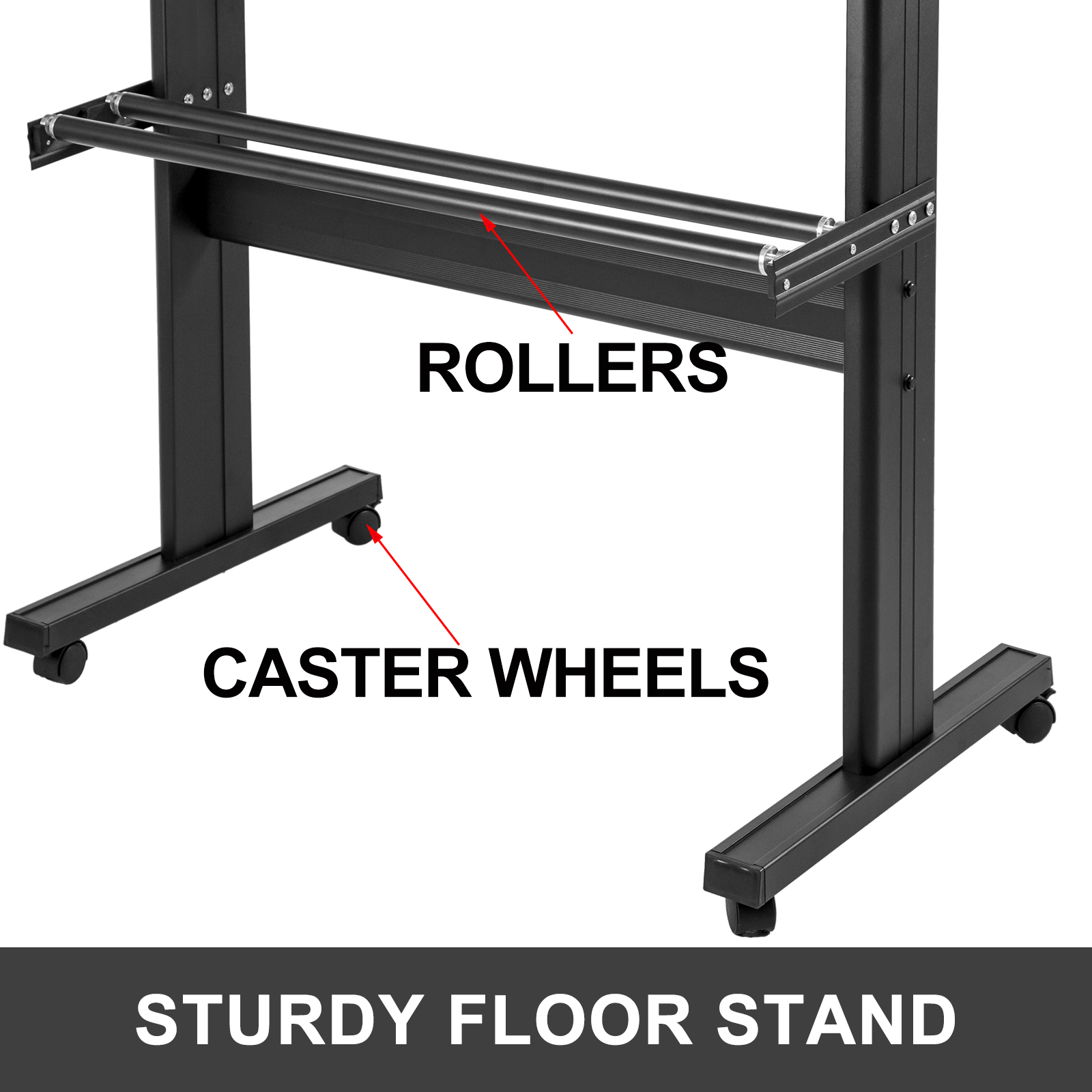 Sturdy Floor Stand
Structured with heavy duty sheet metal floor stand, featuring 4 caster wheels for convenient movement.
34-Inch Vinyl Cutter Plotter
This 34" Professional Vinyl Cutting Plotter with stand comes with easy-to-use Design and SIGNMASTER software, which allows you to cut professional customized designs and signs with your cutting machines, giving you the ability to use your fonts, import custom artwork and draw your own shapes!
Comes with illuminated LCD screen and large control panel buttons. Adjustable speed and force is available by the touch of a button. The digital readout makes for accurate and precise settings.
Suitable for advertisement field, various signs, drawing for building structure or line drawing, automotive decoration, glass field, handicraft, supplementary for heat transfer, indoor decoration, label making, car beauty industry, fashion design, etc.
Cutting Capacity

Strong Stability

Digital Control

High Compatibility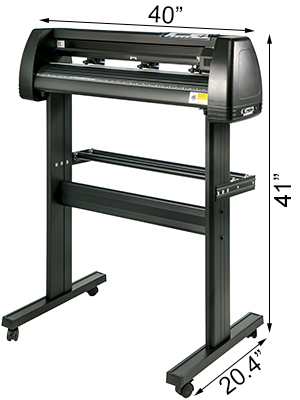 Specifications
Max Paper Feed: 34.3" (

870 mm

)
Max Cutter Width: 30.7" (

780 mm

)

Cutter Pressure: 10-500g

Cutting Speed: 0.4"-31.5"/s (

10-800 mm/s

)
Memory:

2 MB

Repetition Accuracy: 0.0004" (0.01 mm)

Gross Weight: 44.8 lb (20.3 kg)
Package Content
1 X 34 Inch Vinyl Cutter Plotter Machine

1 X SIGNMASTER Software

1 X Blades Holder

3 X Blades

1 X Pen Holder

3 X Cables (USB/Serial/Power Cord)

1 X USB Flash Disk

1 X User Manual

1 X Floor Stand Kit
Item Spec
Model: 34" Vinyl Cutter (Basic model)
Cutter Pressure: 10-500g
Modified Item: No
MPN: XZCXZ006651543300831
Product: Vinyl Cutter
Cutting Speed: No
Custom Bundle: 3
Number of Pinch Rollers: Aluminum
Material: 128K-2M
Memory: 110V AC, 60 Hz
Voltage: Manual
Positioning: Standard, Roland Compatible, 2mm Dia
Blade Types: DM/PL, HP/GL
Language: Stepper motor
Motor Type: 0.0004" (0.01 mm)
Repetition Accuracy: Cutting
Type: 44.8 lb (20.3 kg)
Gross Weight: USB port
Interface: 43.3" x 13.4" x 16.5"
Package Dimensions: 870 mm (34.3 inch)
Max Paper Feed: Signmaster
Software: 780 mm (30.7 inch)
Max Cutter Width: VEVOR
Brand: 865472503233
For Volume Pricing please message us or send us your list via email at [email protected].
View AllClose